A Thai soldier rests in a hospital on the border between Thailand and Cambodia where clashes are continuing. Photograph: Sukree Sukplang/Reuters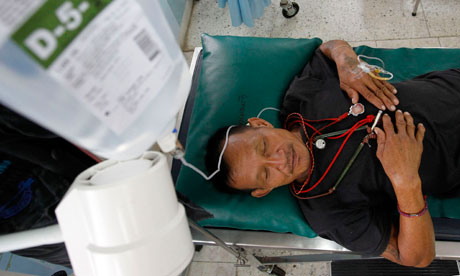 Ceasefire fails to hold as one Thai soldier killed and four wounded in fighting near ancient temples
One Thai soldier has died and four wounded in further clashes on a disputed stretch of border between Thailand and Cambodia, a Thai military spokesman said, as a newly agreed ceasefire failed to hold.
At least 16 people have died in the fighting over the past week, centred on ancient temples at two points on the border.
Thai regional army commander Thawatchat Samutsakorn told Reuters four soldiers were wounded during two clashes involving guns and grenades, which he said had been started by the Cambodian side.
"We are in close contact with Cambodia now and while gunfights broke out, it was not a major clash like before, so I consider this an improvement," he said.
"But it also shows tension is still there and we have to monitor the situation closely for another two or three days."
The ceasefire agreed on Thursday was supposed to end seven days of sporadic artillery and small-rocket fire that had fanned nationalist passions in both countries.
Cambodia's defence ministry said the two sides had agreed to keep troops in the area, hold regular meetings between field commanders and leave their territorial disputes to a joint demarcation commission.
They also agreed to open border checkpoints near two disputed 12th-century Hindu temples at the heart of the fighting, although it was unclear when villagers would be allowed back to their remote, ravaged towns.
More than 60,000 people have been evacuated during the fighting.
Reuters
guardian.co.uk, Friday 29 April 2011